I am currently employed at Bio-Prodict as a medior Data Scientist, where I use state of the art machine learning techniques to develop novel solutions for bioinformatics problems.
I am primarily involved in the production of the Helix product. I work in a team that builds on the results of my internships to predict pathogenicity for different protein variants.
Highlights
Using a variety of machine learning models to create a complex, hypercompetent ensemble model for pathogenicity prediction.
Implementing research-level neural networks directly from the literature in PyTorch.
Working with front-end developers to integrate our model's predictions into the user-facing application.
Adjusting measurement standards to effectively communicate real world performance statistics to users.
Working to create easy-to-use APIs for internal and external users of our data with documentation.
Skills used
| | |
| --- | --- |
| Python | |
| Backend programming | |
| Visualization | |
| Machine learning | |
| Scikit-learn | |
| Keras | |
| PyTorch | |
| Data engineering | |
| NoSQL databases (MongoDB, Google Datastore) | |
| Google Cloud Platform (Kubernetes, Google Compute) | |
| SQL databases (Postgres, SQLite, MySQL) | |
| Scientific reading/writing | |
Media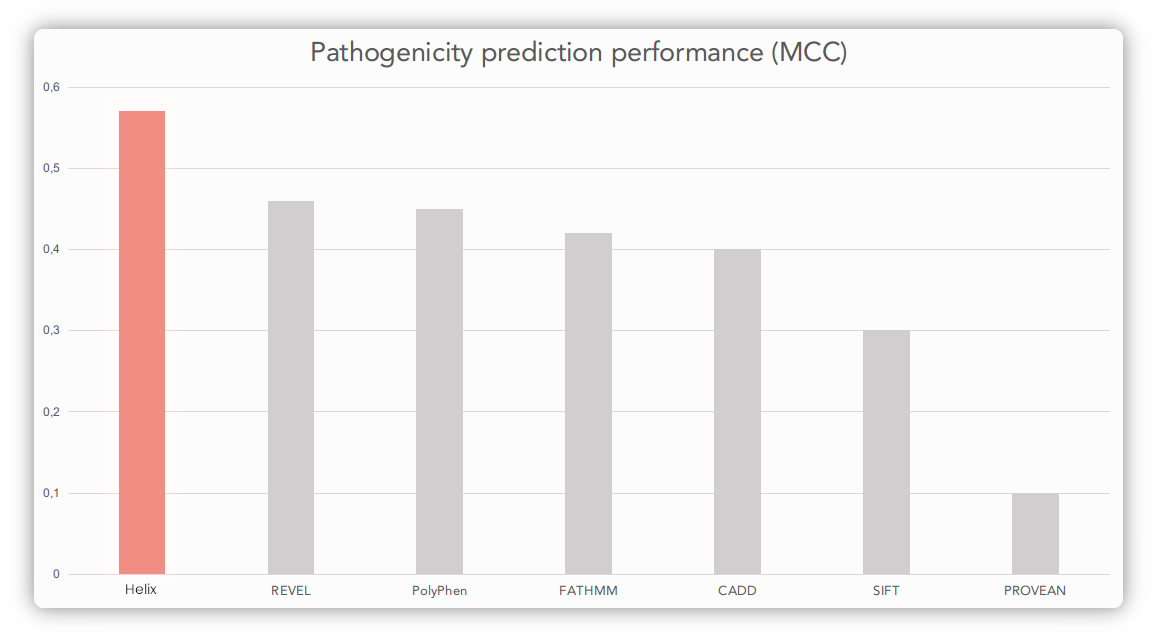 Matthew's Correlation Coefficient performance on an independent dataset of genes, not present in any dataset. Our ensemble outperforms all competitors.